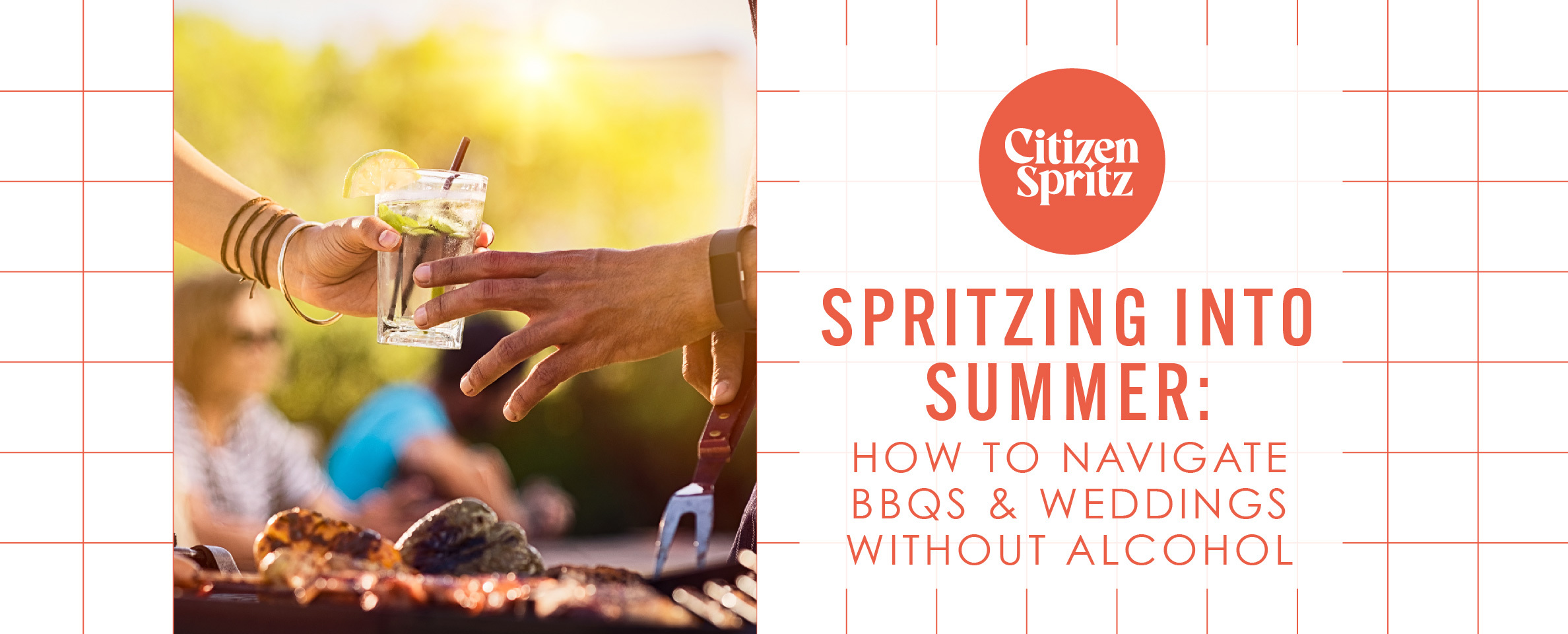 Spritzing into Summer: How to Navigate BBQs and Weddings Without Alcohol
Summer is coming, meaning it is time to kick back, relax, and enjoy the warmer weather. It also means you have many weddings, christenings, parties and BBQs in the diary – more opportunities to drink. We know how easy it is to get sucked into drinking more heavily during summer, so we must share tips for navigating social events without alcohol. After all, a summer without hangovers sounds good to us!
The challenges of navigating social events without alcohol
Giving up, or even reducing your alcohol intake, can be a challenge all year around – never mind, just in the summer. You've made a decision that will positively impact your health and mental well-being, but you might be worried about what your friends might think.
Family dinners, weddings, BBQs and birthday events revolve around alcohol – and you may be under immense pressure from people to join in. You may also look around at everyone else with a glass in their hand and feel a tremendous amount of temptation to join in.
However, the tide may gradually be turning on such alcohol-fuelled events. Recent surveys show that the market for non alcoholic drink products grew by over 7% over ten global markets last year and is expected to rise another third by 2026. More and more people are choosing to avoid alcohol on certain occasions – or even to not drink it altogether.
Introducing Citizen Spritz non alcoholic spritzes
Here at Citizen Spritz, we are all for moderation in everything – including moderation. We love a tipple or two – and who doesn't – but we also know that drinking can harm our health, so we wanted to create a non alcoholic drink that could help us reduce our alcohol intake without losing any of the flavours.
Our food and beverage development backgrounds helped us develop a delicious alcohol free drink with a complex flavour usually only found in alcoholic beverages. We weren't satisfied with the overly sweet and sickly mocktails already on the market, so we worked from the ground up to create something unique.
Low in calories and sugar and deceptively easy to make, the Citizen Spritz range of non alcoholic spritzes is the perfect substitute for your usual tipple. For example, the flavours of our Bitter Orange spritz are similar to those of an Aperol Spritz. If a Pornstar Martini is more your thing, try our Passion Fruit spritz.
Tips for navigating social events without alcohol
Going to a wedding or BBQ without drinking in the summer might seem overwhelming, but it doesn't have to be. Some of our favourite tips for navigating social events without alcohol include:
Bring your own drinks – if you're unsure whether there will be a no-alcohol option at the event you are attending – take your own! Our sampler-size bottles are perfect for slipping into your bag; you only need to add sparkling water or soda.
Focusing on the food – instead of the event revolving around drinks, concentrate on the food. On summer occasions, try to find the taste sensations in what you eat rather than what you drink.
Finding support from like-minded friends. Let people know you are trying to reduce your alcohol intake and have found a great alternative. They will be more supportive than you think – and may even want to try it too.
How to enjoy BBQs and weddings with non-alcoholic spritzes
Suppose you are hosting a BBQ or wedding this summer. In that case, there are plenty of things you can do to ensure people still enjoy themselves without having to drink alcohol, such as:
Pairing the drinks with different foods and flavours
Creating your own signature spritz
Ensure you have plenty of options for those who wish to avoid indulging. With our launch range of non alcoholic drinks, they will really be spoilt for choice!
Summer occasions don't need to be alcohol-fuelled; you can have just as much fun (if not more) by drinking a non alcoholic spritz. Not only will you remember more about the special event, but you will also really enjoy the food – and wake up the next day with no hangover! Result!
Why not try our range of alcohol free spritzes at your next event? And please feel free to share any tips on navigating social events without alcohol with us.
Citizen Spritz. MAKING EVERYDAY MODERATION EASY.