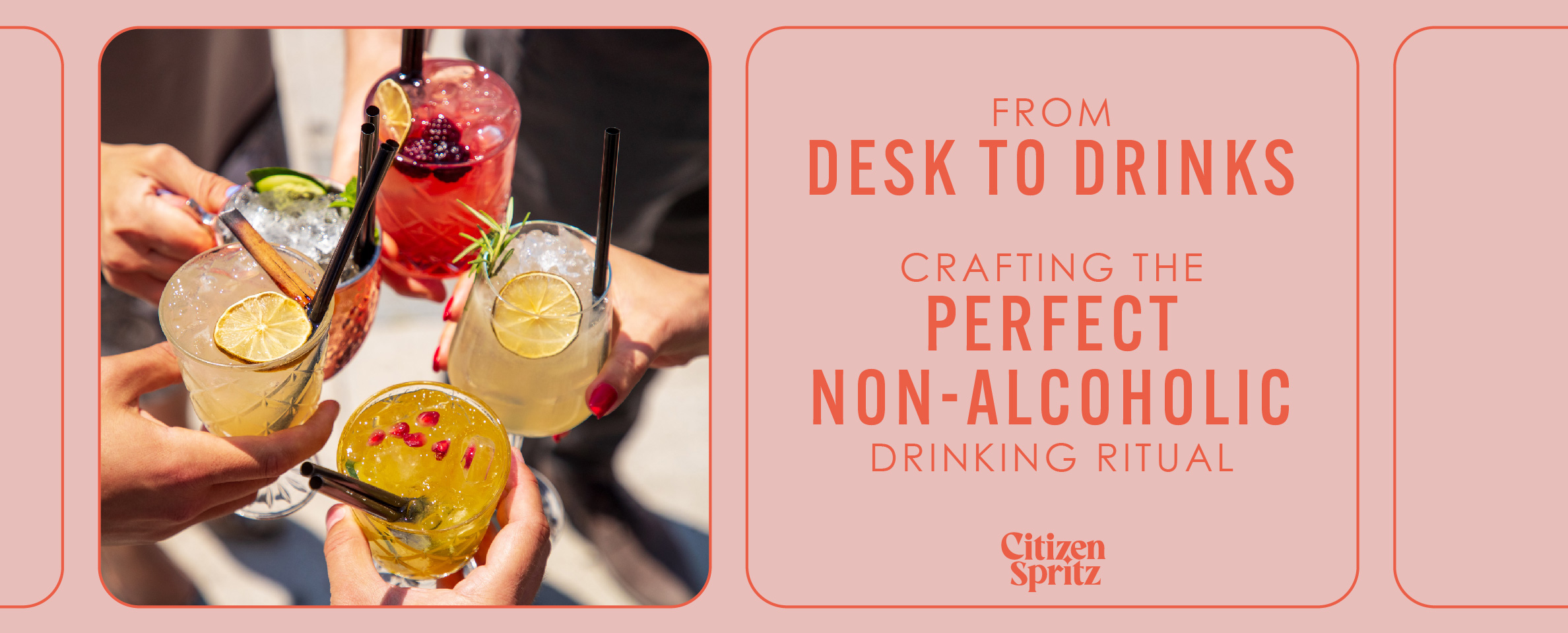 Drinking Rituals: How to transition from work to play
Drinking rituals are seen as very important in our society, with many people believing that drinking is essential to many things, from relaxing after work to watching sports. But partaking in your drinking ritual doesn't have to mean having an alcoholic drink. With Citizen Spritz, you can enjoy a refreshing and tasty drink whenever you want, with no fear of a hangover the next day.
In this post, we will help you understand drinking rituals, how to use non-alcoholic drinks in your work-to-play transition, and give you some suggestions on how to craft your own drinking ritual.
Understanding drinking rituals
Although scientific studies tend to focus on the harmful effects of drinking alcohol, some show that drinking can offer us both social and well-being benefits, especially when we are drinking in a relaxed social environment. When you think about it, there are all kinds of drinking rituals that we know of, including a nice chilled gin & tonic before dinner, a catch-up over happy hour with friends, or picking just the right bottle of wine to have with your meal – and we love all of them!
One of the most common drinking rituals that people enjoy is that glass of a little something to pick us up after work and help us to transition from work to play mode. The thought of sipping a nice cold beer after a long hard day at work can bring a smile to almost anyone's face.
 Non-alcoholic drinks for a work-to-play transition
Having said this, a drinking ritual does not have to contain an alcoholic drink – you could have a non-alcoholic drinking ritual instead. Don't get us wrong, we love a tipple or two as much as the next person, but we don't love the feeling of over-indulging and having a thick head! We are all for moderation in everything, including moderation itself.
One of the reasons why we developed Citizen Spritz is because we wanted to replicate the complex and deep flavours of our favourite alcoholic drinks while reducing our alcohol intake. Our range of launch flavours in our no-alcohol spritzes includes:
Bitter Orange – Zesty and bright flavours reminiscent of an Aperol Spritz
Pink Grapefruit – Sharp and intense favours reminiscent of a Paloma cocktail
Cool Lime – Mint and fresh flavours like our favourite Mojito
Passion Fruit – Sweet and sharp flavours like a Pornstar Martini
Incorporating drinking rituals into your daily life
Creating your own no-alcohol drinking ritual can be an excellent boost for your mental health and well-being – especially at the end of the day. Here at Citizen Spritz, we are all about the Sunset & Spritz – we find that sunset hour is perfect for a glass of our spritz. It helps us perfectly transition from work to play or day to night. Pouring a glass of spritz, sitting down and enjoying the sunset really calms us down and puts us in the present moment.
Why not adopt our night-time ritual as your own? It is a great way to develop a new habit and can help you overcome negative self-thoughts that tend to creep in during this unstructured part of the day between work and play. Pouring that spritz concentrate, adding sparkling water, and serving it over ice will help your body associate that drink with a time to relax message.
In this post, we have examined the importance of drinking rituals and how non-alcoholic drinks can be used in work-to-play transitions. We have also suggested incorporating the Citizen Spritz range of non-alcoholic spritz drinks into your daily life to boost your mental health and well-being and create a new habit to help you transition from work to play.
Why not order our sampler pack, which contains all four of our launch flavours, to find your favourite flavour – which one will you incorporate into your drinking ritual?
Citizen Spritz. MAKING EVERYDAY MODERATION EASY.