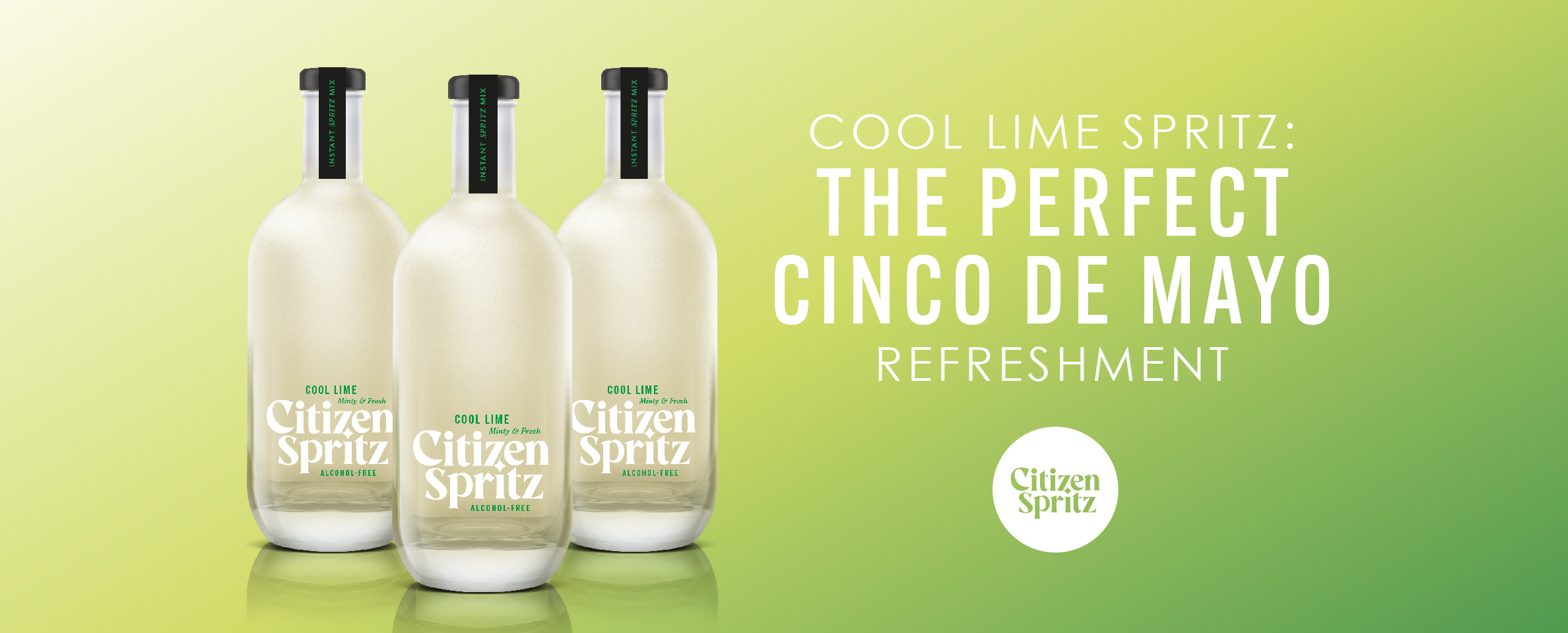 Cool Lime Spritz: The Perfect Cinco de Mayo Refreshment
May is the month of one of our favourite holidays here at Citizen Spritz – Cinco de Mayo! This Mexican culture and heritage celebration is the perfect day to lay out a Mexican feast paired with our refreshing, non-alcoholic Cool Lime spritz. Lime, a key ingredient in Mexican cooking, beautifully complements the spicy flavours of this festive occasion.
Explore Cinco de Mayo with Cool Lime Spritz
Cinco de Mayo, which translates as the 5th of May, commemorates the Mexican Army's victory over France at the Battle of Puebla during the Franco-Mexican War of 1862. Surprisingly, it's more widely celebrated in the US than in Mexico, where it's not a federal holiday. In the US, it's a time for parties, mariachi music, and indulging in traditional foods like tacos and mole poblano.
Introducing Our Cool Lime Spritz
Meet our non alcoholic Cool Lime spritz, crafted with the essence of a mojito in mind. This delightful blend of refreshing lime and mint flavours is alcohol-free. It adds a touch of Cuban zest to your celebrations. The unique flavour profile includes notes of lime, mint, white rum, and a hint of agave for sweetness. It's a perfect match for Cinco de Mayo as lime's acidity complements Mexican spicy cuisine, widely used in soups, tacos, and everyday dishes.
How to Create the Perfect Cool Lime Spritz
Making a Cool Lime spritz is as easy as 1, 2, 3:
Measure 25ml of our concentrated Cool Lime non alcoholic spritz.

Add 175ml of soda or sparkling water.

Serve over ice and garnish with a lime wedge and a sprig of mint.
Serving Suggestions
Pair our Cool Lime alcohol free spritz with Mexican classics like tacos or guacamole and tortilla chips. You can also incorporate our spritzes into your recipes. For example:
Create a Lime and Avocado Salad dressing with Cool Lime spritz, honey, Dijon mustard, and olive oil.

Marinate chicken in Cool Lime spritz, olive oil, garlic, and cumin before grilling to perfection.
Why Choose Cool Lime Spritz for Cinco de Mayo
While tequila is the go-to Mexican alcoholic drink, serving an alcohol free option ensures everyone can enjoy the festivities without the aftermath of a hangover. You could also offer our Pink Grapefruit spritz, an alternative to Cool Lime, as it pairs beautifully with Mexican cuisine. Pink grapefruit is a key ingredient in the Paloma cocktail, widely associated with Mexico. Our Pink Grapefruit spritz has a sharp taste that perfectly complements Mexican dishes' heat.
Celebrate Cinco de Mayo with the zest of Cool Lime Spritz. A refreshing, alcohol-free choice that pairs impeccably with the vibrant flavours of Mexican cuisine.
CITIZEN SPRITZ. MAKING EVERYDAY MODERATION EASY.