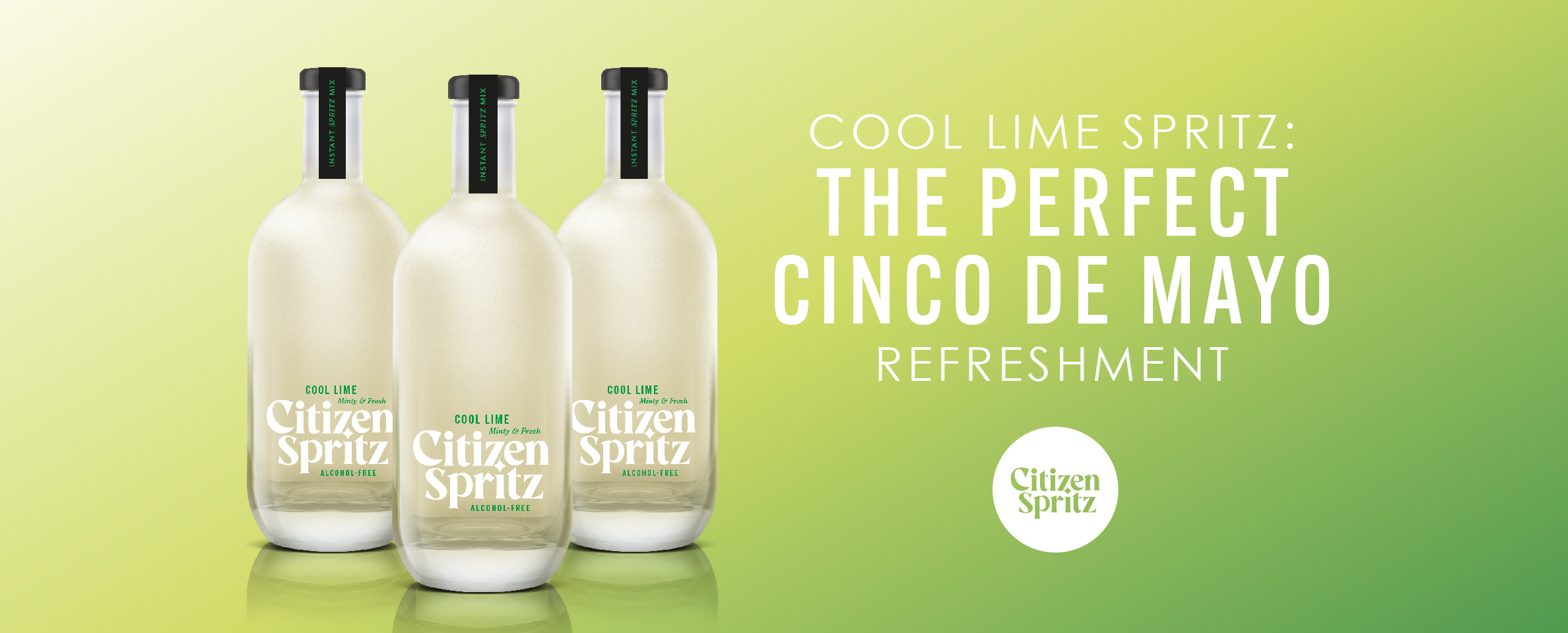 Cool Lime Spritz: The Perfect Cinco de Mayo Refreshment
May is the month of one of our favourite holidays here at Citizen Spritz – Cinco de Mayo! This Mexican culture and heritage celebration is the perfect day to lay out a Mexican feast paired with our delicious no-alcohol Cool Lime spritz. Lime is one of the most-used ingredients in Mexican cooking, thanks to the fact that it pairs so perfectly with many of their spicy foods.
What is Cinco de Mayo?
Cinco de Mayo (which translates as the 5th of May) is a popular holiday that celebrates the date of the Mexican Army's victory over France at the Battle of Puebla during the Franco-Mexican war of 1862. Interestingly, the holiday is more widely celebrated in the US than in Mexico!
It is not classed as a federal holiday in Mexico, but the state of Puebla tends to have a military parade and a recreation of the battle. However, it is more of a Mexican culture and heritage celebration in the US. Parties, mariachi music and traditional food such as tacos and mole poblano mark it.
Introducing our Cool Lime Spritz
Say hello to our no-alcohol Cool Lime spritz, developed with a mojito in mind. This delicious blend of refreshing lime and mint flavours is alcohol-free and will bring more than a touch of Cuban kudos to your kitchen. The unique flavour profile of this concentrated spritz includes refreshing flavour notes of lime, mint and white rum, along with a touch of agave for sweetness.
This spritz flavour is perfect for your Cinco de Mayo celebrations as lime is one of the most used ingredients in Mexican cooking due to its acidity, pairing ridiculously well with their spicy food. Mexicans tend to use lime in soups, tacos and many of the other dishes they enjoy in their daily lives.
How to Make a Cool Lime Spritz
Making a Cool Lime spritz at home is as easy as 1, 2, 3. You just need to:
Measure out 25ml of our concentrated instant non-alcoholic spritz Cool Lime flavour
Add 175ml of soda or sparkling water
Pour over ice and garnish with a wedge of lime and a sprig of mint
It couldn't be simpler.
Serving Suggestions
Our Cool Lime instant spritz is made with lime oil to give it a tangy yet refreshing taste. Some Mexican dishes that we think pair well with the Cool Lime spritz are:
Mexican Tacos. Lime is also a common ingredient in Mexican cooking, often used to add a bright, zesty flavour to tacos. Our Cool Lime spritz could be the perfect pairing if you're making fish or vegetarian tacos.
Our lime-flavoured spritz would be a refreshing accompaniment to guacamole and tortilla chips.
You can also use our spritzes in your cooking. For example, our Cool Lime spritz has a minty and fresh flavour that we think would work perfectly in the following recipes:
Lime and Avocado Salad. Mix diced avocado, diced cucumber and mixed salad leaves and cover with a dressing made from Cool Lime spritz, honey, Dijon mustard and olive oil.
Lime Grilled Chicken. Marinate chicken breasts in Cool Lime spritz, olive oil, garlic and cumin for at least 30 minutes. Grill until cooked and serve with some lettuce and roasted vegetables.
Why Choose Cool Lime Spritz for Cinco de Mayo
Yes, you could serve tequila, the quintessential Mexican alcoholic drink, at your Cinco de Mayo celebration, but you don't need to serve alcohol to ensure everyone enjoys the day. Offering your guests a non-alcoholic alternative means that everyone can join in the fun, and nobody suffers from a hangover the next day. Win-win!
You could also offer your guests our Pink Grapefruit spritz as an alternative to the Cool Lime flavour. Pink grapefruit is the main ingredient of the Paloma cocktail, which is widely associated with Mexico. Our Pink Grapefruit spritz has a sharp taste that will cut through the heat of some of our favourite Mexican dishes.
Hopefully, you know more about Cinco de Mayo, a Mexican culture and heritage celebration, and Citizen Spritz's Cool Lime spritz, an alcohol-free beverage perfect for the occasion. Lime, a commonly used ingredient in Mexican cuisine, pairs well with spicy food and is present in many Mexican dishes, making the Cool Lime spritz an excellent choice for pairing with Mexican food.
Why not try a Cool Lime spritz this Cinco de Mayo and share your experience with us?
Citizen Spritz. MAKING EVERYDAY MODERATION EASY.