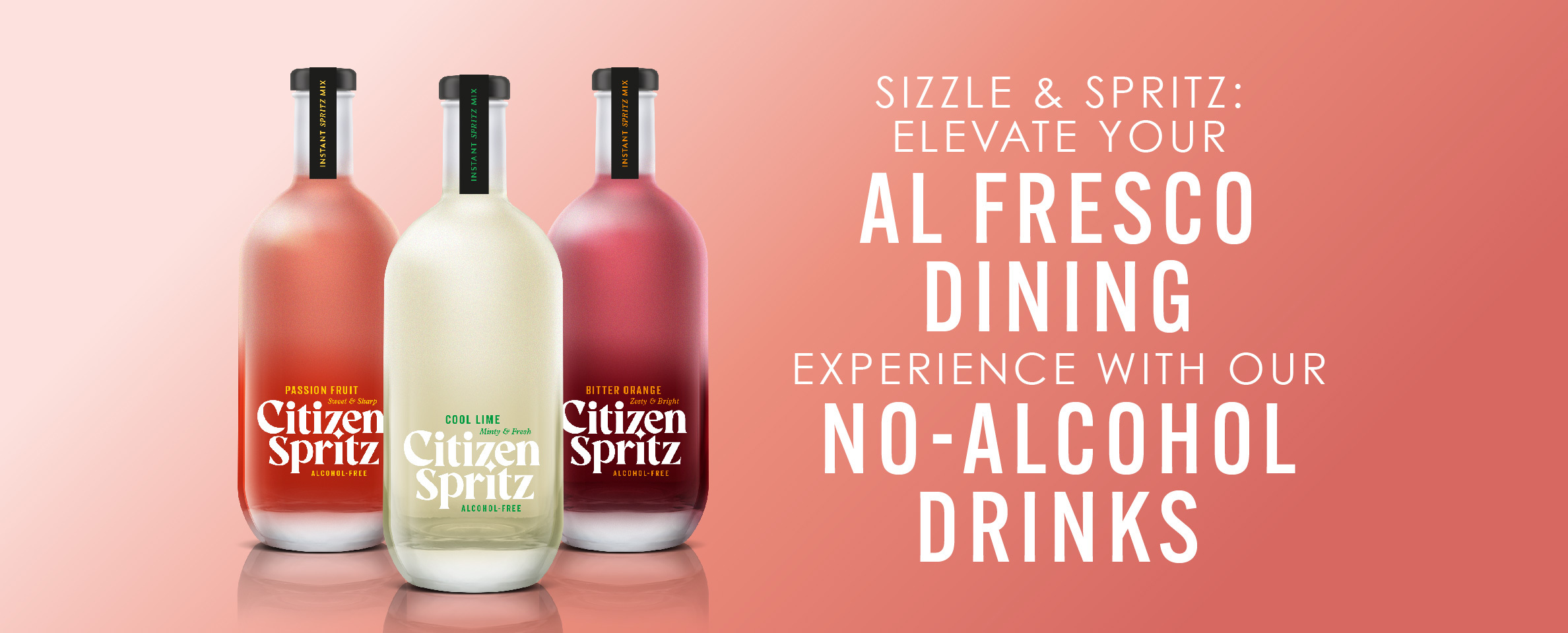 Sizzle & Spritz: Elevate Your Al Fresco Dining Experience with Our Non Alcoholic Drinks
Hello there! Please let us introduce ourselves – we are Citizen Spritz, a UK-based non alcoholic spritz drink company. In the summer, we love some al fresco dining – or dining outside – and think our alcohol free spritzes are perfect.
This post will examine the benefits of non alcoholic drinks, the popularity of al fresco dining, and how our alcohol free spritzes are perfect for the outdoors.
The benefits of non alcoholic drinks
We've talked about the benefits of consuming less alcohol many times, and the NHS are pretty clear on what they are, including:
feeling better in the morning
being more energetic
having better-looking skin
lower blood pressure
better mood, memory and quality of sleep
We're all for moderation here – even in moderation – so while we don't want to cut out alcohol completely, we want to create a drink to help us enjoy those days when we didn't want alcohol.
Our range of flavoursome non-alcoholic spritzes is perfect for those who want to reduce their alcohol intake or even cut it out altogether, as we have developed a unique product with the same flavour profile as some of our favourite alcoholic drinks with none of the side-effects associated with drinking alcohol.
The rise of al fresco dining
In case you hadn't realised, al fresco dining or dining outdoors has become a thing! From rooftop restaurants to pub beer gardens, people are embracing outdoor eating more than ever. And it comes as no surprise to us.
Being outdoors offers us many benefits, such as making us feel happier, especially when eating in spaces with beautiful plants. It also encourages us to spend more time with our children as a family, as there isn't the issue of watching the noise level. We can also get our pets involved, too.
The range of spritzes we offer at Citizen Spritz is perfect for outdoor dining as they are light, refreshing, and easy to make. Add 175 ml of sparkling water or soda to 25 ml of concentrated spritz, pour over ice and serve.
Citizen Spritz's range of no-alcohol drinks
Our launch range of non alcoholic spritzes includes:
Bitter Orange – a blend of bitter orange oil, rhubarb, herbs and botanicals
Cool Lime – a mixture of pressed lime oil, mint and a hint of rum flavouring
Pink Grapefruit – which contains pink grapefruit juice
Passion Fruit – a mix of passion fruit and orange juice
The way that we have developed these drinks means they are not only low in sugar and calories, but they contain over 40 natural ingredients perfectly blended to give you a range of instant spritzes with complex taste profiles usually only found in alcoholic drinks.
Our alcohol free spritzes can be enjoyed as they are or used in various mocktails, which are perfect for al fresco dining.
Why not try our range of non-alcoholic beverages and share your experience with us on social media?
Citizen Spritz. MAKING EVERYDAY MODERATION EASY.