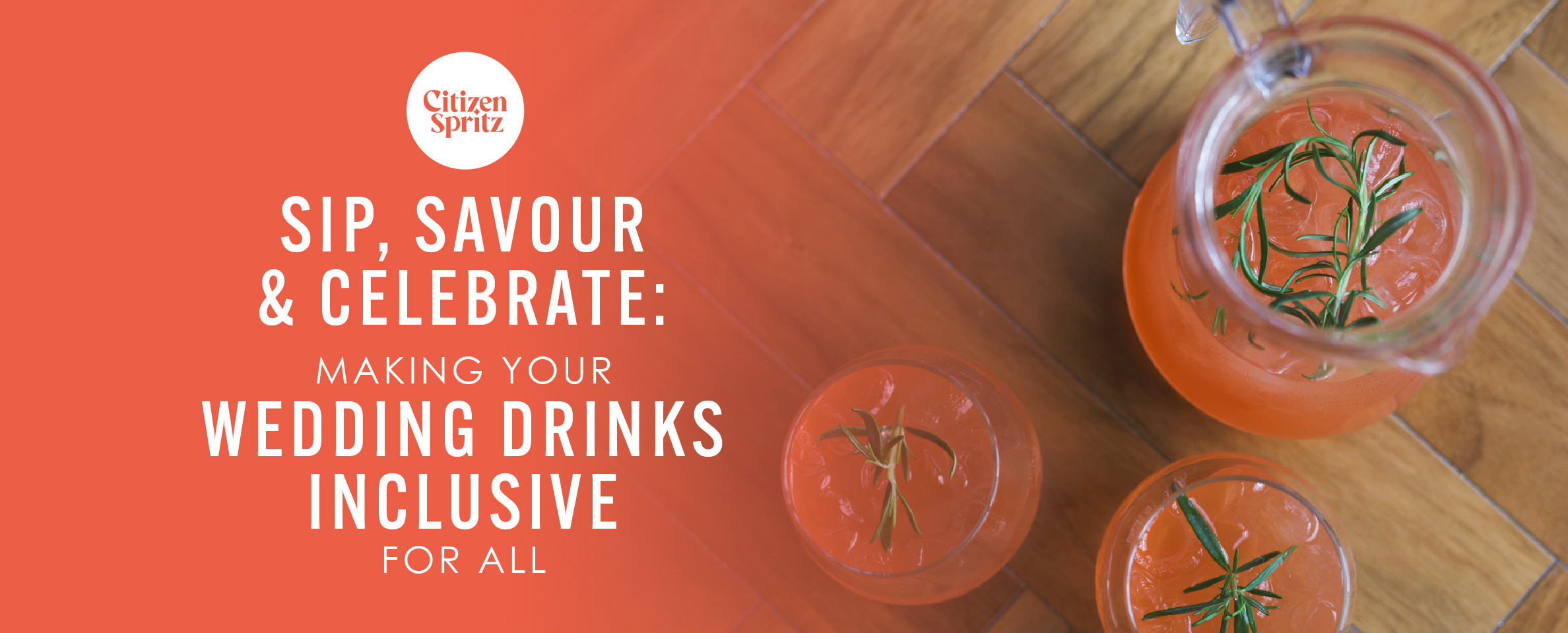 Making Your Wedding Drinks Inclusive for All with Citizen Spritz
It's wedding season, and that means one thing – free-flowing alcohol! Research by The Knot has shown that guests drink one alcoholic drink per hour, on average. This may not sound like a lot, but this is the average – many people will drink more, and some will drink less.
When it comes to drinking less, The Society of Independent Brewers (SIBA) recent British Craft Beer Report highlighted the growth of no and low-alcohol beers being brewed in response to an increasing number of people reducing alcohol intake or avoiding it altogether – especially in the 18-24 age category.
This shift in mindset means that you probably need to consider offering non alcoholic drinks at your wedding, either as a replacement or a supplement for alcohol.
Understanding the importance of inclusive wedding drinks
There are two main reasons why people don't want to drink alcohol at a wedding. Either their religion prohibits it, or they don't want to! And while they can access a soft drink, wouldn't it be more fun for them if you offered them some non alcoholic drinks they will enjoy – and that will make your day stand out for them?
The food and drink development backgrounds of our co-founders, Mark and Mike, have led to us creating a range of non alcoholic spritzes with all the depth of flavour and complex taste profiles usually found in alcoholic drinks. This makes them a versatile and inclusive choice to offer your guests – whether they want to reduce their alcohol intake or give it up altogether.
What non alcoholic drinks to serve at a wedding
You don't have to have a dry wedding; you can still serve alcohol – after all, many of your guests will expect it – but why not encourage everyone to think about drinking more mindfully? Instead of serving champagne or prosecco as your welcome drink, why not ask your venue to serve a glass of your favourite flavour Citizen Spritz, instead? If it is done in the correct glass and garnished well, they may not even realise there is no alcohol in it!
Consider setting up a garnish bar, offering guests the option to choose their garnish from a selection such as mint, orange, pink grapefruit, rosemary, etc. This is a great way to engage guests in the day, creating their beautiful Instagram-worthy spritz.
Signature Spritz Creations for Your Wedding
The unique thing about Citizen Spritz non alcoholic spritz is that they are not made by removing alcohol from existing spirits. Each flavour has been created from over 40 natural ingredients. Bitter Orange, for example, contains bitter orange oils, botanicals, herbs and rhubarb. Cool Lime contains the flavours usually associated with a Mojito – pressed lime oil, mint and hints of rum.
You can easily incorporate Citizen Spritz alcohol free spritz into your wedding by asking your venue to display a prominent sign at the bar naming the range of instant spritzes on offer. This sign will show your guests that options are available to them other than alcohol and may prompt them to be more mindful of their drinking.
Offering Citizen Spritz non alcoholic spritzes at your wedding is a great way to ensure your drinks are inclusive. Not only will your guests thank you when they wake up the next day with no headache, but it will also make your day more memorable.
Explore our website for more spritz recipes and resources, and check out our full range, including our sampler pack.
Citizen Spritz. Making Everyday Moderation Easy.