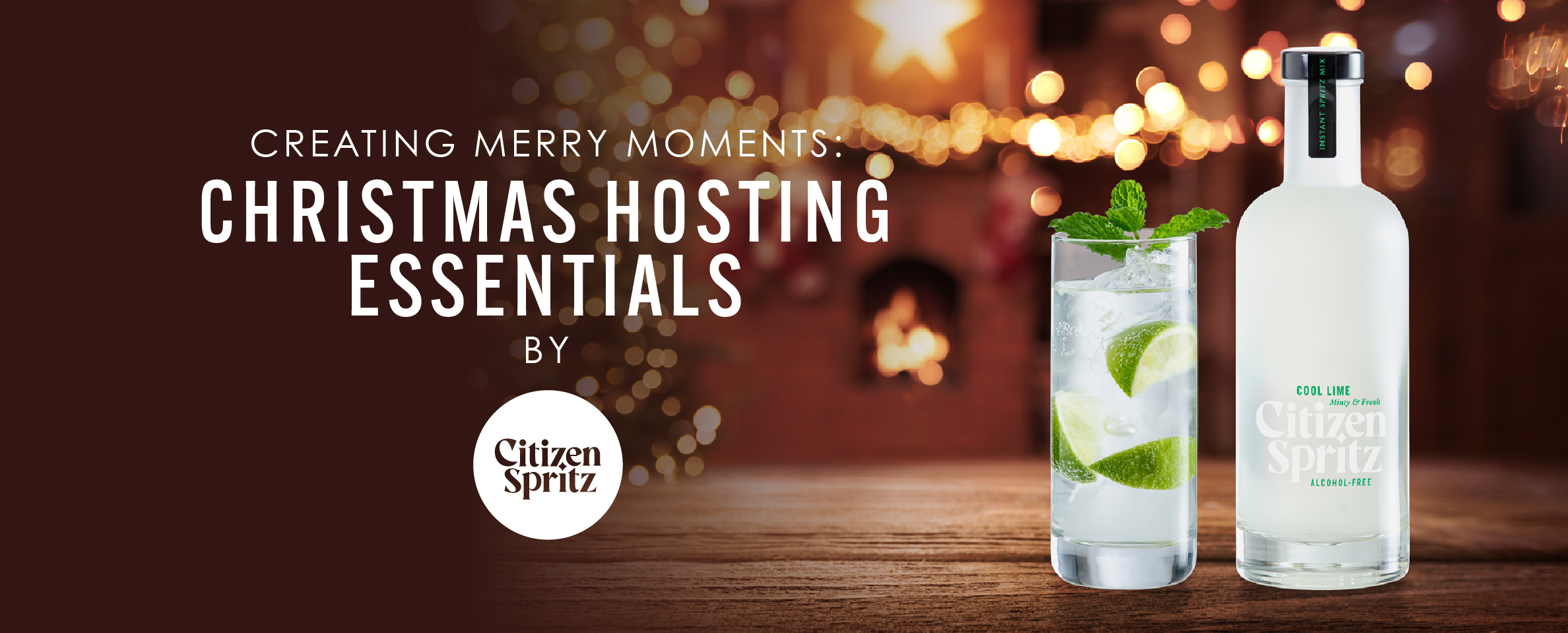 Creating Merry Moments: Christmas Hosting Essentials by Citizen Spritz
The festive season is upon us, which means it's time to gather with family and friends, enjoy delicious food, and raise a glass to celebrate the joy of Christmas. But what if you're looking for something special to serve your guests beyond the typical wine or cocktail options? That's where Citizen Spritz comes in.
In this blog post, we'll introduce Citizen Spritz, our range of non-alcoholic spritzes and explore why they are the perfect choice for Christmas and festive gatherings.
Introducing Citizen Spritz
We are Citizen Spritz, redefining the world of beverages with our delightful range of non-alcoholic spritz drinks. Our unique, refreshing blends are crafted to perfection, providing a sophisticated alternative for those who choose not to consume alcohol. Our spritzes offer a wonderful combination of flavours, making them an excellent choice for your Christmas festivities. Whether you're the host or a guest, we ensure you have a drink that looks and tastes exquisite and helps elevate the merry moments of your celebration.
Benefits of Non-Alcoholic Drinks at Christmas
Inclusivity: One of the most significant advantages of non-alcoholic drinks is their ability to unite everyone. Christmas gatherings often consist of diverse individuals, some of whom may not drink alcohol. Citizen Spritz ensures that no one is left out and everyone can partake in the festive toasts.
Health-Conscious Celebrations: The holiday season tends to be indulgent, with many traditional drinks being calorie-heavy and containing alcohol. Opting for non-alcoholic alternatives like Citizen Spritz can help individuals maintain a healthier lifestyle during the holiday season, reducing their alcohol intake and the associated risks.
Tips for Choosing and Serving Non-Alcoholic Drinks
When it comes to serving non-alcoholic drinks at Christmas, there are a couple of things to keep in mind:
Pairing with Food: Like wine, non-alcoholic spritzes from Citizen Spritz can be

paired with different foods

to enhance the dining experience. Consider matching the flavours of

your

spritz with your menu. For example, the crisp citrus notes of Citizen Spritz Bitter Or

ange could complement seafood. At the same time, our rich Passion Fruit

s

pritz would pair wonderfully with turkey or ham.

Festive Cocktails: Get creative by crafting festive cocktails with non-alcoholic ingredients. You can mix Citizen Spritz with seas

onal fruits and spices to create unique, Christmas-inspired cocktails for your guests.
Delicious Non-Alcoholic Christmas Drink Recipes
To make your Christmas gathering truly special, here are some recipes for non-alcoholic Christmas drinks that you can prepare:
#1 Christmas Citrus Mocktail:
Ingredients: Citizen Spritz Bitter Orange spritz, cranberry juice, ginger ale, and orange slices.
Instructions: Mix Citizen Spritz Bitter Orange spritz and cranberry juice. Top it up with ginger ale and garnish with orange slices.
#2 Passion Fruit Paradise Spritz:
Ingredients: Citizen Spritz Passion Fruit spritz, pineapple juice, club soda, and a twist of lime.
Instructions: Blend Citizen Spritz Passion Fruit spritz with the pineapple juice and soda. Serve over ice and garnish with a twist of lime.
#3 Pink Grapefruit Fizz:
Ingredients: Citizen Spritz Pink Grapefruit spritz, grapefruit juice, tonic water, fresh mint.
Instructions: Mix Citizen Spritz Pink Grapefruit spritz with grapefruit juice and tonic water. Add fresh mint leaves for a burst of flavour.
#4Cool Lime Refresher:
Ingredients: Citizen Spritz Cool Lime spritz, lime juice, coconut water, cucumber slices.
Instructions: Combine Citizen Spritz Cool Lime Spritz with lime juice and coconut water. Add a few cucumber slices for a refreshing touch.
As you prepare to host or attend Christmas gatherings, consider incorporating Citizen Spritz non-alcoholic spritzes into your celebrations. They offer a unique, refreshing twist to your festivities, making your moments of togetherness even merrier. We invite you to share your favourite non-alcoholic Christmas drink recipes and experiences with Citizen Spritz on social media. Let's make this holiday season one to remember, filled with joy, laughter, and incredible, alcohol-free drinks.
In summary, Citizen Spritz brings a touch of elegance to your Christmas celebrations with our range of non-alcoholic spritzes. These beverages are perfect for hosting inclusive, health-conscious gatherings and can be transformed into delightful, festive drinks. Make Citizen Spritz a part of your Christmas traditions and toast to creating merry moments with friends and family.