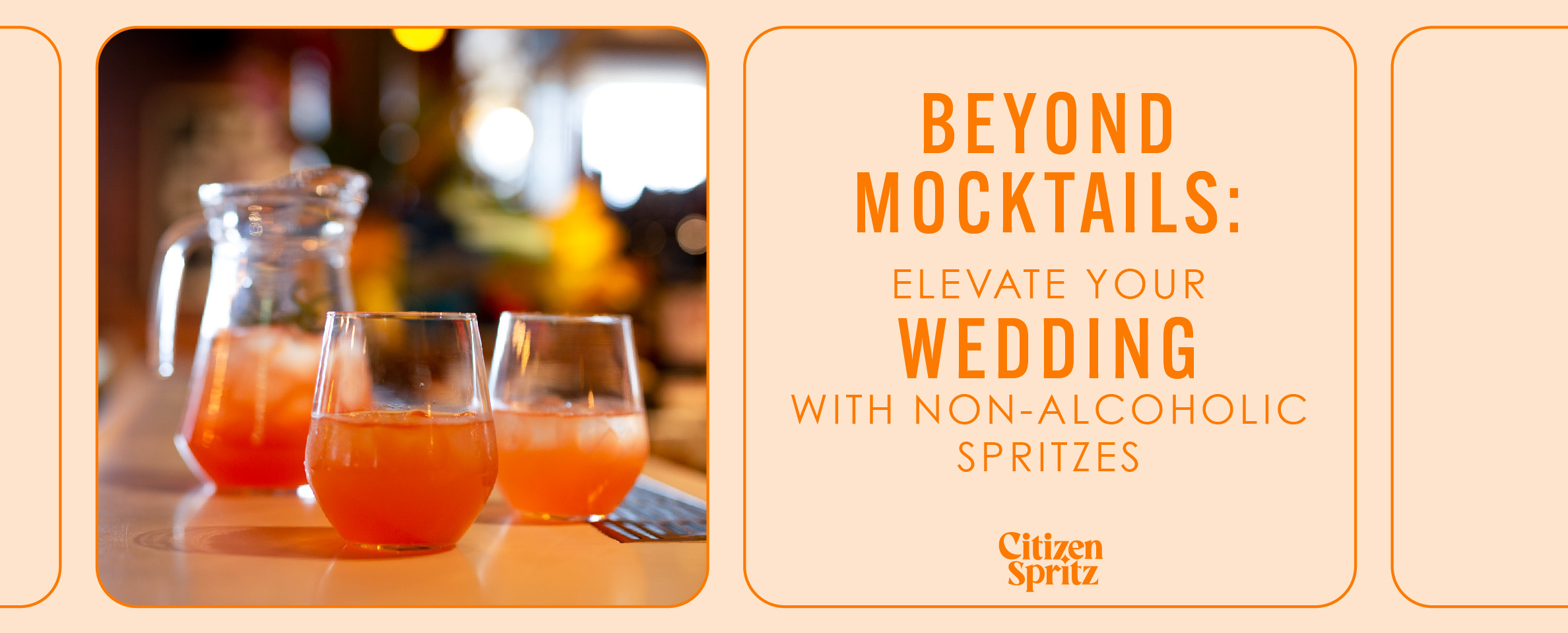 Beyond Mocktails: Elevating Your Wedding with Non Alcoholic Spritzes
August is here, and we are bang in the middle of the wedding season, which can mean hangovers galore! But it doesn't have to. If you are getting married this summer, why not include some non alcoholic drink options on your drinks menu?
Offering an alcohol free option will help people reduce alcohol while allowing them to engage in your time-honoured ritual without the embarrassing dancing and blurry vision that usually comes along with it. This is where Citizen Spritz comes in – we are elevating non alcoholic spritzes.
Understanding the Non Alcoholic Trend
The European Supermarket Magazine recently reported that the main factor driving non alcoholic beverage sales is that younger generations are less interested in drinking alcohol. Many studies show that Generation Z consumers drink 20% less alcohol than Millennials, and Millennials already drink less than Generation X and Baby Boomers.
Therefore, offering a non alcoholic drinks option at your wedding is a great way to make it accommodating and inclusive for all your guests, especially those who are pregnant or choose not to drink alcohol. Offering non alcoholic wedding drinks shows that you are taking your diverse guest preferences and dietary restrictions into account, making your wedding day more enjoyable for everyone.
The Art of Crafting Non Alcoholic Spritzes
As spritz experts, we are happy to share that the three critical components of a spritz are: fizz, flavour and garnish. Our Citizen Spritz range of spritzes uses quality non alcoholic spirits as the base, and the flavours are then complemented with fruit juices and incorporate botanicals and herbs for a sophisticated touch.
They are so easy to serve as well. All the bar staff must do is add 175ml of soda or sparkling water to 25ml of our instant spritz, ice, and garnish. Job done!
Curating a Stunning Non Alcoholic Spritz Menu
Talking of bar staff, not only have we made it easy for them to serve Citizen Spritz non alcoholic cocktails, but we have also made it easy for them to serve various spritz options to suit different tastes. Our range includes four refreshing flavours – Bitter Orange, Cool Lime, Pink Grapefruit and Passion Fruit – incorporating seasonal ingredients for freshness and vibrancy.
Our range also lets your wedding bar staff create visually appealing alcohol free spritzes with thoughtful garnishes to delight your guests. They are also customisable, so you and your guests can create their spritzes in keeping with your wedding theme.
Pairing Non Alcoholic Spritzes with Wedding Menus
Our blog, "The Perfect Sip: Non Alcoholic Drink Pairings for Every Meal", is an excellent read if you are wondering how to harmonise our spritz flavours with your wedding menu choice to enhance your guests' dining experience. For example, if you are having seafood, our zesty Bitter Orange or sharp Pink Grapefruit spritz would work well, whereas our Cool Lime spritz pairs well with richer dishes such as red meat.
You could also use one of our non alcoholic spritzes as a toasting option for those who don't wish to partake in a glass of champagne or prosecco.
Presentation and Serving Suggestions
If you are wondering.how to serve soft drinks at a wedding, then why not really elevate the experience of your guests who choose to have a non alcoholic drink at your wedding by asking the bar staff to serve our non alcoholic spritzes instead? If they use elegant glassware with decorative elements and garnishes, it will all add up to a more visually appealing drink that is not overly sweet, either. Our "How to Drink" page offers suggestions for the best way to serve each of our spritzes.
Consider incorporating interactive drinks stations or spritz bars to encourage guest engagement – they can mix the spritz to their preferred taste and experiment with different garnishes.
If you are planning your wedding, then consider offering Citizen Spritz for a memorable and inclusive celebration.
Citizen Spritz. Making everyday moderation easy.