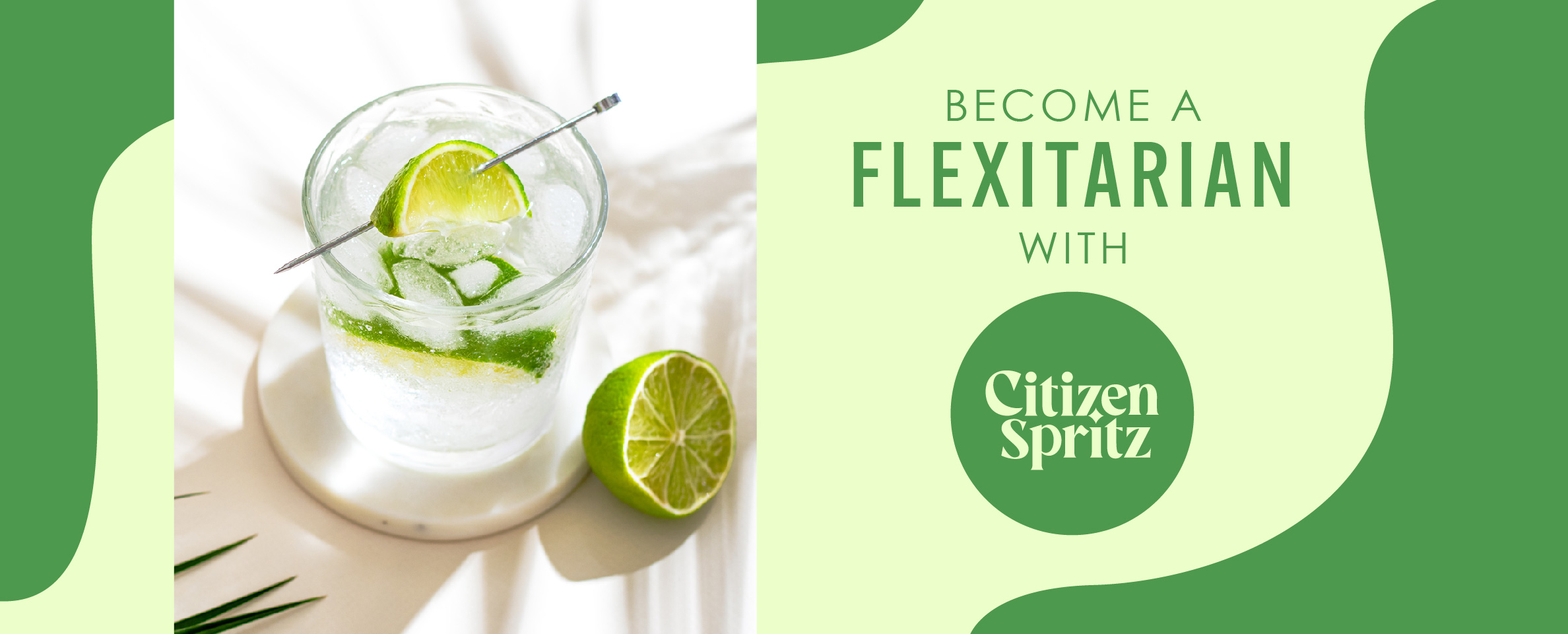 Become a flexitarian with Citizen Spritz
Dry January has ended, and you're thinking, what now? You know the benefits of not drinking, but you're not convinced that giving up alcohol altogether suits your lifestyle. Then you might be a flexitarian drinker who has not given up alcohol entirely but is thinking more about what, when and how often they drink.
What is the flexitarian approach?
There are a million and one reasons why people might choose to give up alcohol altogether, from medical reasons to supporting a friend or just trying to sleep better.
There also seems to have been a cultural shift in the past few years with more focus on our health and wellness, which is also changing our attitudes towards alcohol. More and more people are opting to continue to drink alcohol but want to do it in a more balanced way.
This is where flexitarian drinking comes in. Flexitarian originated as a word used to describe people who had reduced the amount of meat they ate but didn't want to become vegetarian. Therefore, flexitarian drinkers are those people who want to drink less but don't want to become tee-total.
Here at Citizen Spritz, we are firm believers in flexitarian drinking. Our motto, after all, is "Everything in moderation, including moderation."
Why flexitarian drinking?
The stereotypical idea of the drinking culture here in the UK tends to focus on the pub, with figures showing the average amount of alcohol drunk per week per adult is about 18 units (around 7 pints of beer).
However, research also shows that around 20% of the UK population doesn't drink at all, a figure which is increasing – especially amongst the younger population.
Adopting the flexitarian approach helps you be more mindful of your drinking patterns and think more carefully about what you are drinking, when you are drinking it, and how much you are drinking. It also encourages you to take the time to enjoy your drink when you have one and savour the moment, as it were.
Choose non-alcoholic spritzes to help you.
Many flexitarian drinkers use Citizen Spritz non-alcohol spritzes to help them find more balance in their drinking. As mindful drinkers, one of the things we were aiming for with these spritzes was flavour. We wanted to capture that elusive warming tingle that is one of our favourite things about some of the boozier beverages we enjoy.
We might have a Cool Lime spritz with our dinner one or two nights a week or a Bitter Orange spritz on a night out at the weekend – rather than instinctively going for a glass or two of wine. We find this way of reducing our drinking much less restrictive than giving alcohol up altogether or trying to "drink less", which is a bit vague!
You may want to think about how much alcohol you wish to have in a week, or on specific days, for example – and gradually cut back as you work out what is best for you. If you are really craving an alcoholic drink but don't want to have alcohol at that moment, then switching to Citizen Spritz is the easiest thing to do.
To enjoy Citizen Spritz at home, just add sparking water and ice.
Citizen Spritz. MAKING EVERYDAY MODERATION EASY.