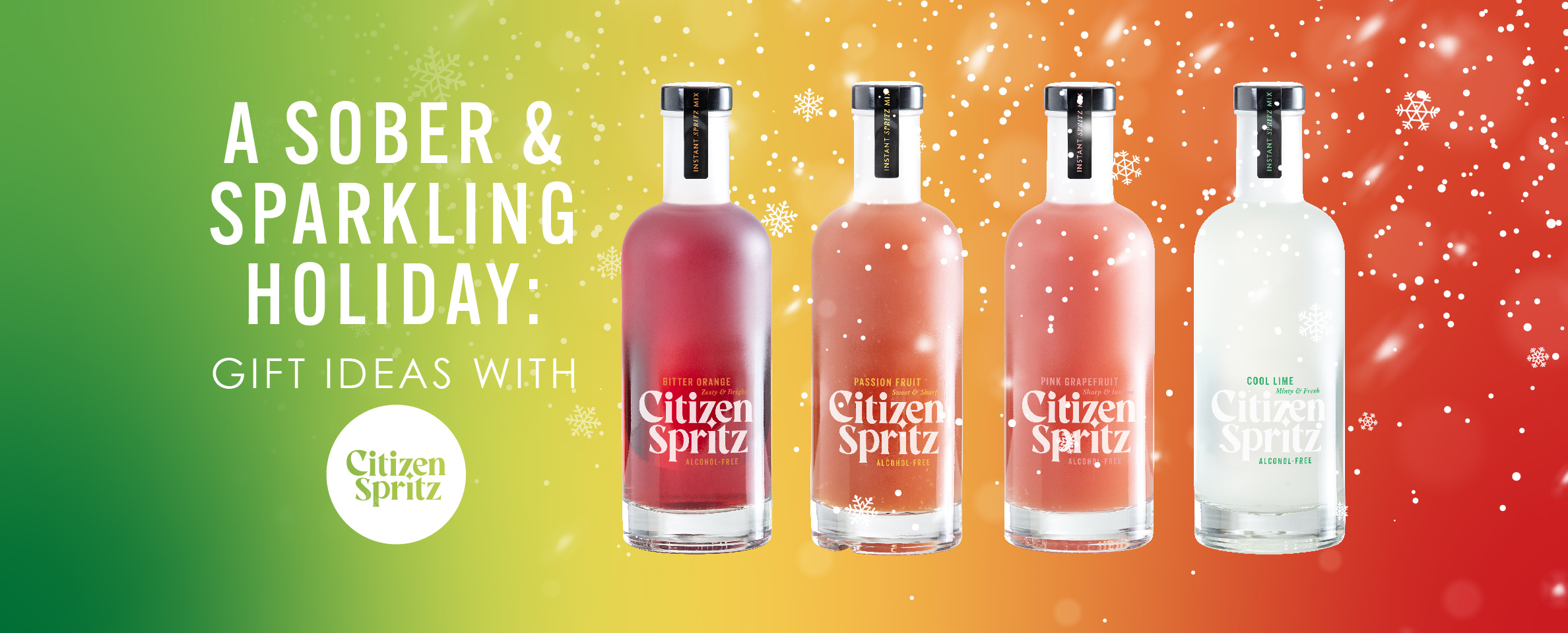 A Sober and Sparkling Holiday: Gift Ideas with Citizen Spritz
The holiday season is upon us, and it's the perfect time to spread joy and warmth to our loved ones. For friends and family who prefer to celebrate without alcohol, there's no need to compromise on festive cheer. Enter Citizen Spritz, the non-alcoholic spritz with a burst of flavour that will make your Christmas drinks delightful.
In this guide, we'll explore how you can create a memorable and sober holiday with Citizen Spritz, along with thoughtful gift ideas to have your loved ones raise a toast to the season.
Citizen Spritz: A Non-Alcoholic Alternative for Festive Sips
Christmas is all about gathering with friends and family, and what better way to celebrate than with a refreshing drink? Citizen Spritz offers a range of flavours, including Bitter Orange, Cool Lime, Pink Grapefruit, and Passion Fruit, perfect for crafting exquisite non-alcoholic Christmas drinks. From virgin spritzers to mocktails, these flavours bring the festive spirit to every sip.
Crafting Festive Mocktails with Citizen Spritz
#1 Citrus Winter Wonderland:
Mix Cool Lime non-alcoholic spritz with sparkling water and a splash of cranberry juice.
Garnish with a lime slice and cranberries for a vibrant and refreshing mocktail reminiscent of a snowy landscape.
#2 Holiday Sparkle Punch:
Combine Passion Fruit non-alcoholic spritz with ginger ale and a hint of pomegranate juice.
Add frozen raspberries and mint leaves for a delightful and effervescent punch that's as festive as possible.
Thoughtful Gift Ideas for a Sparkling Season
#1 Citizen Spritz Gift Basket:
Craft a heartwarming Citizen Spritz Gift Basket that will delight your loved ones. Begin by selecting an array of Citizen Spritz flavours, carefully curating a mix that suits their taste buds, whether it's the zesty Cool Lime, the vibrant Pink Grapefruit, or the exotic Passion Fruit. Next, elevate the presentation by including festive glassware that complements the Citizen Spritz experience, whether it's elegant highball glasses for a classic mocktail or colourful stemless wine glasses for a modern twist. To add a personal touch, include a Christmas card with warm wishes and sentiments that convey your love and thoughtfulness. This gift basket is not just a collection of items; it's a celebration waiting to be unwrapped, shared, and enjoyed during the holiday season.
#2 DIY Mocktail Kit:
Assemble a delightful DIY mocktail kit that sparks creativity and flavour exploration for your friends. Start with the Citizen Spritz Mix and Match case, featuring four unique non-alcoholic spritz flavours: Bitter Orange, Cool Lime, Pink Grapefruit, and Passion Fruit. To complete the experience, add a set of beautifully designed recipe cards that showcase mocktail recipes tailored to each flavour. Elevate their mocktail-making adventure with special garnishes like fragrant cinnamon sticks and star-shaped orange slices. With this kit, your friends can embark on a flavour-filled journey, crafting delicious and imaginative drinks to savour and share throughout the holiday season.
#3 Elegant Drinking Accessories Set:
Consider gifting an elegant drinking accessories set that complements the Citizen Spritz experience. Include high-quality glasses, a stylish cocktail shaker, a precision jigger for measuring, and artisanal garnish tools. These accessories not only enhance the enjoyment of Citizen Spritz but also elevate the entire non-alcoholic drink-making experience at home. It's a thoughtful and practical gift that your friends can use throughout the year to craft their favourite beverages with flair and precision.
Wrap It Up with Love and Care
Remember the power of presentation. Wrap your gifts in eco-friendly and reusable packaging, adding a touch of holiday magic with ribbons and bows. Include a heartfelt note to express your warm wishes and personal sentiments.
Cheers to a Merry and Memorable Christmas
With Citizen Spritz in hand and thoughtful gifts, you're all set to have a sober and sparkling holiday season. Celebrate with your loved ones, toast to joy, and savour the deliciousness of Christmas drinks made with Citizen Spritz. Here's to a festive season filled with love, laughter, and cherished memories.
Discover Citizen Spritz Today
Ready to make your holiday season sparkle? Explore the world of Citizen Spritz and find the perfect flavours for your Christmas drinks and thoughtful gifts. Visit our website and create a memorable, alcohol-free celebration this year.